November 6, 2020
| #
Patients
Patient Interview with Aidan Shribman from Israel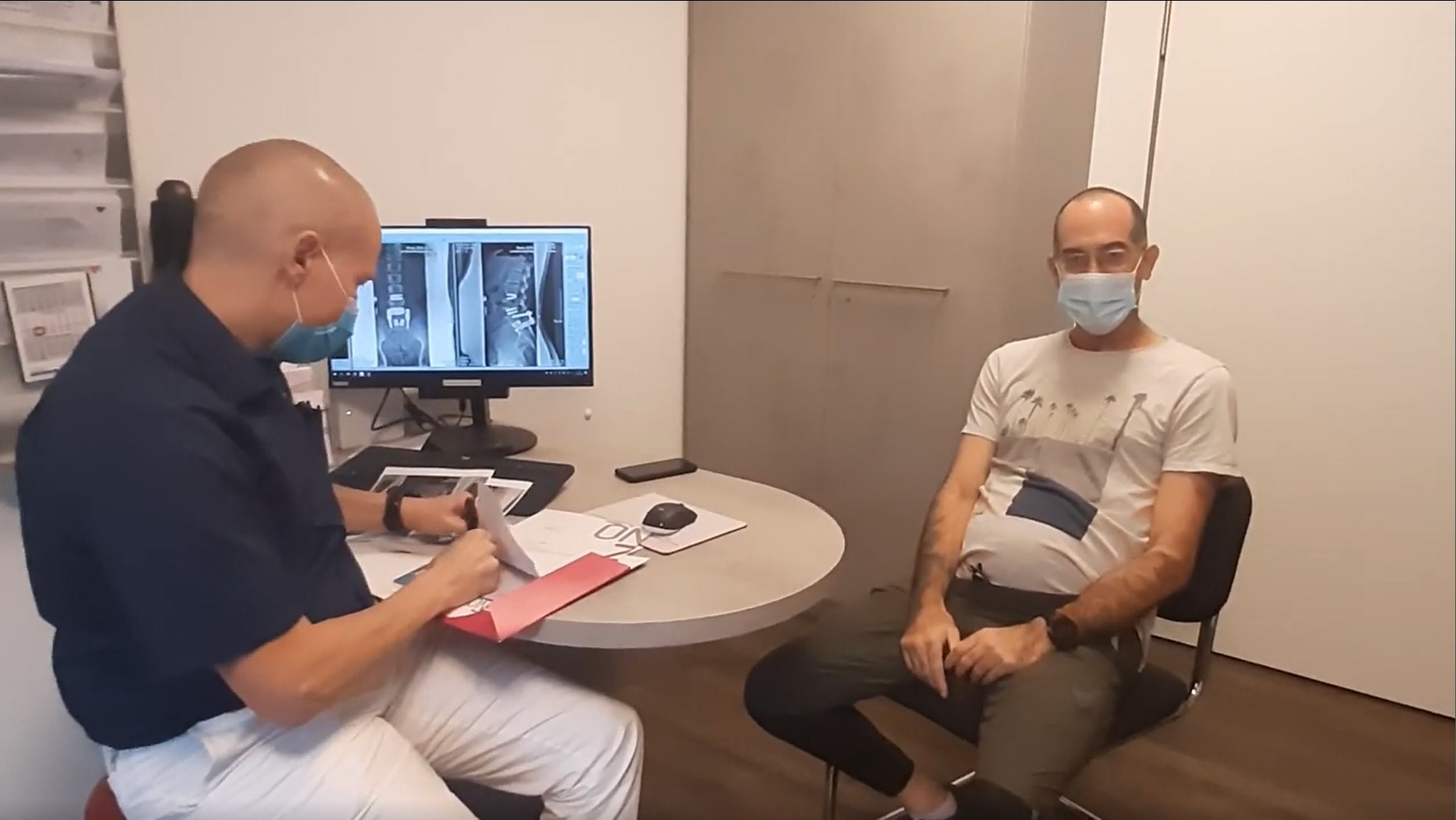 All right. We're sitting here today in the clinic of ONZ. Dr. Bierstedt is receiving Mr. Shribman from Israel. He was actually operated by Dr. Illerhaus. His final checkup, today, is with Dr. Bierstedt. Mr. Shribman, what can you say now like 12 days after your surgery? How have you experienced your stay here with the ONZ and the Medicos?
Well, I'd say everything totally exceeded my expectation. I'll just give a little bit of background. I had a motorcycle accident 20 years ago. I had damage at three levels, L5-S1, L4-L5, L3-L4. And about 18 years ago, I had my lower level fused. And generally, since then and since the accident 20 years ago, I had excruciating pain. I mean pain at the level that caused my entire body to shiver 24/7 and all my muscles to be constantly caught up. It was totally amazing, the experience I had here. I think since the initial email exchanges with Jake, who quickly got me on the path for evaluation of my state, and then helping me get through the paperwork super quickly. I was getting on a plane within a week since I got the option to have the operation. And then, again, the total support that I had, running up to the operation itself. And waking up from it, I sent my girlfriend a short message. I told her, "I'm feeling amazing, but I can't move. So don't expect me to get back to you the next few days." What happened, when I woke up, was that 20 years of nightmare, of excruciating pain, shiver of the entire body vanished. It had totally changed. I felt nothing on my back. My only pain was in the area of the operation and to the legs, but nothing of the pain that I've suffered from for 20 years.
Now, how do you rate the experience, say, the combination of being hospitalized and then being transferred to the Medicos? You think that has been beneficial for your recuperation?
Yeah. I think it's built in a very structured way, which really has worked well for me, and I've seen it's worked well for other people who have done it. Because, basically, you have the first week, right after the operation, where you really need the kind of closer care that the hospital can give you. Again, the staff was amazing. And then going on to Medicos staff, getting you ready for your day-to-day life. And it's built very well. I mean I can just point out to two immediate takeaways which I've had from the few days at Medicos. I organized, by myself, a special chair to be ready to be shipped to my house when I come back after getting guidance there, and I found a cycle in the gym which meets my needs, I also ordered that.
Have you met other people here from other countries during your stay?
I think another aspect was that you meet really nice, interesting people, who kind of share the same background of many years of what appeared to be incurable pain. So I've met people from the U.S., from Canada, and it's generally been a really fun aspect of it.
Would you recommend this program to others who were in the same situation as you were?
Definitely. I mean I've already recommended it to two people I know. One of them is my brother which has not such a serious condition, but has a small issue, and another relative, which could be a candidate. Basically, I've told them, "Listen, you really should consider this. It's not as intimidating as it may appear, of going to a foreign country and having major surgery." And I'll tell you what I told Susan, your carer, which supported me in the hospital. You know, when I underwent three major surgeries, seven radio frequency, one IDET, and a zillion other treatments. I've spent many, many days in all the leading hospitals in Israel that I had locally, and my stay in ONZ has been, by far, the best experience. I mean no comparison.
Wishing you all the best for the future. Will you stay in contact?
And thanks for the interview.