October 19, 2020
| #
Patients
Patient Interview with Dave Greenwood.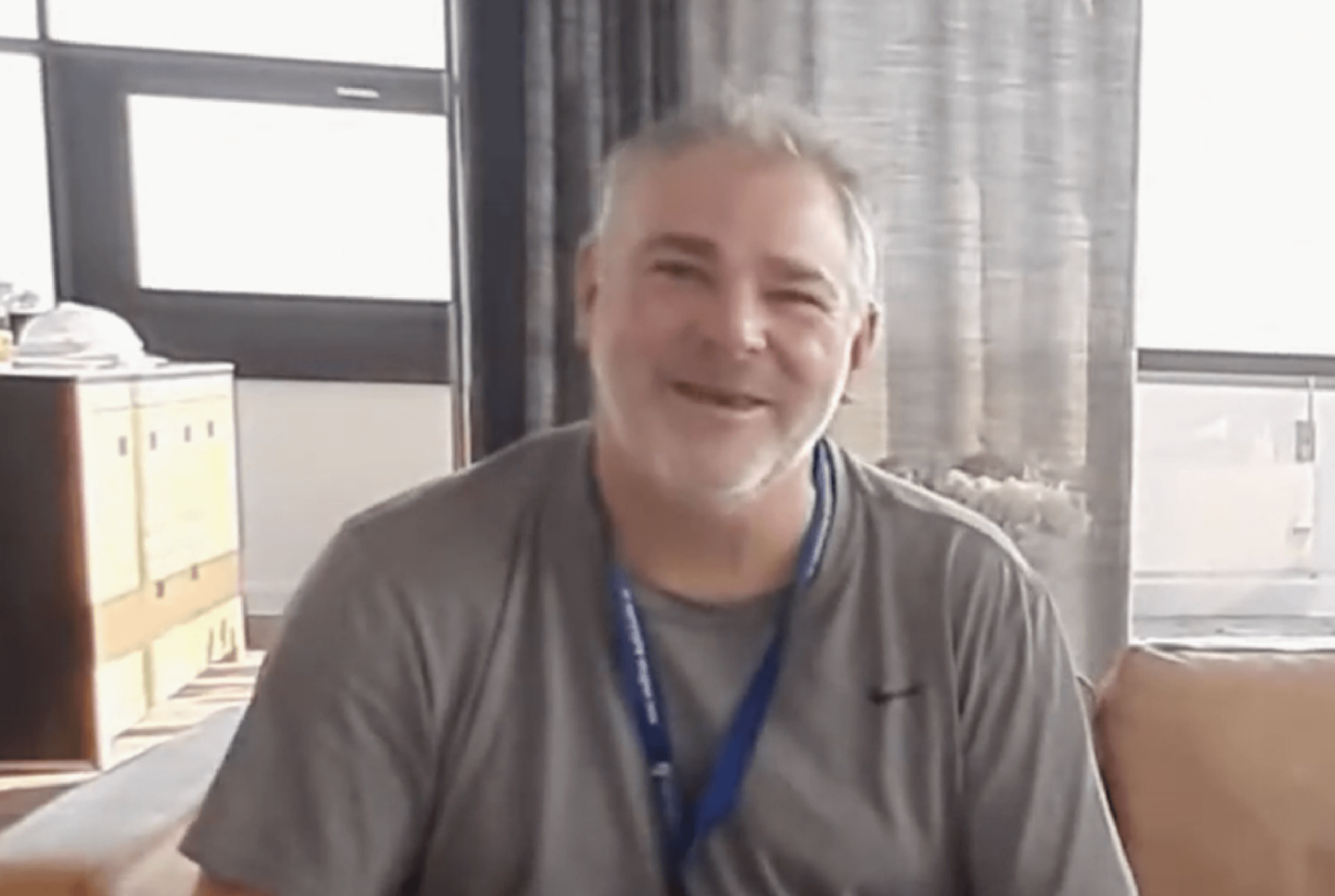 Alright, today is October 19th. I'm sitting here with Dave Greenwood here at the Medicos. Dave, would you just explain or tell us, when did you come to Germany and what did you have done?
Well I came to Germany on October 4th for a medical intervention to have artificial disc replacement at L45 and 5S1 in my lumbar spine.
Why didn't you do it in the United States?
Well, I did extensive research. I had three discs replaced back in 2012 in Germany in my cervical spine and at that time I was offered a fusion in the United States. At that time I only knew that there was such a thing as an artificial disc and I did my research at that time. I came to find that there are artificial discs available so at that time, and quite frankly at this time in 2020, the best discs available are really only available here in Europe. Then from there, when you look at Europe… I am German, my mother's maiden name was Klanck. When you consider adavanced spine surgery, I would go to a place that makes BMWs, Porsches and Mercedes-Benz. Good German porcesses, you can't beat it. So in terms of in the United States… The United States quite frankly is I'd say 10-15 Years behind in this technology, whether it's been the technology, at least in my opinion, I know there's a lot of great discs out there that are used in the United States. But for me - the ones, that i was interested in, were only available here. And then quite honestly, the surggeons over here have been dong this for an extensive period of time all the way back, probably 15 years and longer. So the surgeons are experienced. They've done thousands of them and they have the processes down, whether it's pre-OP or post-OP. So that's why I chose Germany.
When did you have your surgery done and how do you feel today?
Well the surgery was done on October 7th and it was a great, great process. The team at ONZ and also the team at the hospital, where I had my surgery worked excellent, I can't say enough about the experience I had. You know, it is major reconstructive spine surgery and as we all know it took years for these ligaments, tendons and muscles to kind of shrink down and over the period of two hours you're stretching them back to where they're supposed to be. So there's a lot of what's considered to be distraction pain or residual pain, which you go through post-OP. It's well managed by the folks at the hospital with pain medication. Today, based on the care I received at the hospital and the tremendous care and experience here at Medicos, which is the rehab center, I feel great. Just by virtue – and I menationed this to you, Malte, earlier – Just by virtue of being here in Medicos we're all walking an average of 7000 steps a day and on average about 10 flights of stairs, if you choose to use the stairs. So that's just on a daily basis going from session to session and then, while you're here, you're getting what I equate to a spa level experience for people convalescing from surgery. There's three different kinds and [sizes]. You get educated on proper ergonomics based specifically on the type of work and the type of lifestyle you do. The Do's and Don'ts, how you sit, how you stand, how you get into bed, how you get into a car, so that you're making sure that you're not doing anything wrong that could disrupt artificial discs during the critical three-month healing process. After three months they grow to your spine and at that point in time you're almost ready to go back to doing anything you did before. So I feel great right now. I mean, we've been walking over the weekend. We took walks up to two plus miles. We went to the mall, walked four miles. I've got a fitness watch that tracks everything I do.
Oh, thank you very much for your report. You really seem to have become an expert yourself on the process itself, but also on your body. Obviously benefiting from the rehab program that is designed for you here. How do you find the idea of having the surgery and the post-surgery rehab in one course and how's the organization for that?
I think it's optimal, because everybody's different. I'm here with eight other great people, who have become my friends. Everybody's recovery and progression is a little bit different, but for me, motion and fluidity has been the most beneficial versus just sitting around or laying around in a hospital or a hotel room. So getting up and moving, the massages you get, the treatments you get to make sure your digestive tract is flowing and functioning. You meet with a doctor every day. You have someone that looks at your wound, where the incision is, and replaces the bandages to make sure that there's no infection or anything happening there. You have a rapid progression, a rapid increase. I mean, if I was to walk around here right now you would never know that I just had major reconstructive surgery of my lumbar spine. It is optimal. Again I had a surgery here eight years ago and the week after the surgery there wasn't a rehab. It was a great experience, but I think having the rehab directly after the surgery Lets point out: the rehab center is attached to a Marriott hotel, so you don't even need to go outside or travel. You go from your hotel room directly to the rehab center. If you have breaks in your schedule you can go back to your room, you can lie down. You could do whatever. It is an excellent experience here at Medicos.
Thank you so much. My last question is: What do you plan to do in your new future? Like what kind of activity do you want to return to, which you couldnt do prior to surgery?
I'm a very active guy. My passion right now is kite surfing, so I'm out there in the ocean. I live on the east coast of the United States and I attach a kite to my waist. I have a surfboard and I'm out in the waves. I've been afforded the opportunity to do that up until recently, when my back really went bad on me. It really was a catalyst for me to come here and getting it fixed now. I'm an avid road cyclist, I also play golf and I am a Do-It-Yourselfer. I do everything around the house, so after taking my time and healing over the next three months I'm getting ready in the spring to get back and start charging it hard again.
Your report was very inspiring and I hope it will inspire others, who are now facing a misery or a dilemma in that crisis. You seem euphoric and optimistic and you spread so much of that. Again, thank you so much for sharing your experience with us.
Oh, you're very welcome and anybody that wants to reach out to me, I'm happy to help and share my experience. It was important to me to see the videos. It played a part in my decision to come here. Thank you very much, Malte, for letting tell you how I've been doing here.